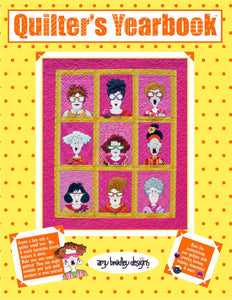 Quilters Yearbook Downloadable Pattern
See more from
Amy Bradley Designs Quilt Patterns
Item Number

Quilters Yearbook  is a downloadable pattern.  Downloads are sent immediately after purchase.

Mix and match hairstyles, glasses, features, and shirts to make your own crazy quilters. Then have fun accessorizing them with jewelry, buttons, sequins, and rhinestones. Quilters Yearbook download pattern is a 35 page pdf file that you download and print from your home printer. Quilters Yearbook pattern Includes instructions with photos and full size patterns to make the 51 1/2" x 60 1/2" quilt. The technique is fusible applique. The block size is 11 1/2" x 14 1/2".

Please respect the copyright law. The artist has worked hard to create this work. If another copy is needed for a friend, another license needs to be purchased. Thank you for supporting the quilting community.