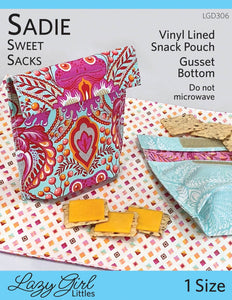 Sadie Sweet Sacks
See more from
Lazy Girl Designs Quilt Patterns
Item Number

Crackers, snackers, cookies, and cheese - Sadie's perfect for all of these! Pack your lunch, or pack your purse. Skip the vinyl and she's perfect for sewing supplies or other little goodies. Sadie's gusseted bottom allows her to expand and stand. Vinyl lined, Velcro closure. Shown with best friend Lucy Lunch Wraps LGD305 as a placemat. Finished size 6in x 6in
NOTE: DO NOT MICROWAVE OR USE IN OVEN
Supplies Makes 1 Sadie
7in x 17in outside fabric
7in x 17in lining fabric
1/4 yd Slicker™ Iron-On Glossy Vinyl from Lazy Girl, SLG1021 (not included)
2in x 3/4in sew-on hook and loop tape or Velcro
Choose a thread color that blends.

Slicker Iron-On Glossy Vinyl - Fuse this project-sized Slicker to any smooth fabric to make it water-resistant. Fuse to paper to laminate signs, artwork and more. Can be stitched without leaving adhesive residue on sewing machine needle. Perfect for items that clean up with a wipe.