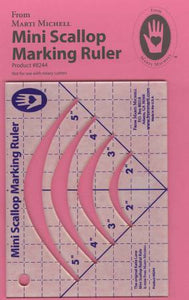 Scallop Ruler
See more from
Michell Marketing Quilt Patterns
Item Number

Mini Scallop ruler makes scallops with lengths of 2in, 3in, 4in or 6in Use for small projects like hand towels, placemats, napkins, clothing wall hangings or pillowcases.
Large Scallop Ruler makes scallops with lengths of 6in, 7in, 8in, 9in or 10in. Eighth inch clear acrylic. Use for table runners, window valances, wall hangings or bed quilts.
The Scallop Handbook.  Colorful 16 page companion to Scallop Rulers. Covers everything you need to get started.