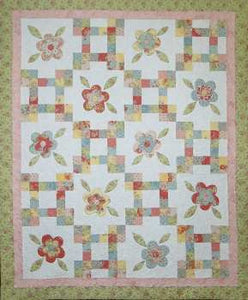 Square Dance
See more from
Cottage Quilt Designs Quilt Patterns
Item Number

Make this adorable quilt in sizes throw to king from precut 2 1/2" fabric strips for the pieced blocks and cake layer squares (10")  for the flowers. Add a light print for the background, green and pink for the inner border. Large fusible appliques and strip pieced blocks make this quilt a joy to make and use!
Finished Sizes:  
Lap and Throw: 58" x 70"
Twin: 74" x 98"
Double/Full: 86" x 98"
Queen: 98" x 98"
King: 110" x 98"