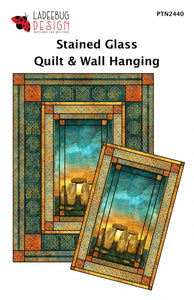 Stained Glass
See more from
Ladeebug Designs Quilt Patterns
Item Number

The stained-glass effect in the pattern is created by using 1" strips of black fabric folded in half and inserted between pieces when sewing seams. This technique creates the look of ¼" strips without working with ½" pieces. It's a great way to showcase a digital 27" panel. Need an extra 1/4 yd if using a traditional 24" panel.
Quilt - 40" x 68"
Wall hanging - 30" x 48"
Pattern only.  No fabric included.