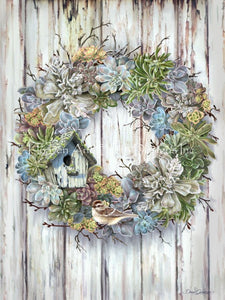 Succulent Wreath Cross Stitch By Dona Gelsinger
See more from
Dona Gelsinger Dona Gelsinger Quilt Patterns
Item Number

Succulent Wreath Cross Stitch chart
This Dona Gelsinger cross stitch chart is available in 2 sizes, regular and large.
Finished Design Size 475 W by 633 H (19 W X 25-1/4 H inches on 25ct fabric)
(This Chart Contains 89 Colors)
Regular Format - 57 Pages
Large Format - 63 Pages
Copyright Heaven and Earth Designs 2020
Copyright Dona Gelsinger 2020
Copyright 2020
View All Dona Gelsinger Cross Stich Patterns Here
Note: Our cross stitch PDFs are not automatic downloads. Please allow us up to 48 hours to process your order and manually email the pattern to you.