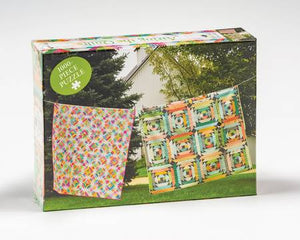 Sunday Best Quilt Puzzle 1000Pc
See more from
Martingale Quilt Patterns
Item Number

After a cold winter snuggled under layers of warm quilts, the spring thaw provides a chance to freshen up handmade quilts by airing them on a clothesline. Immerse yourself in the beauty of a pair of quilts waving in the wind on a picturesque country day.
A 1000-piece puzzle from Martingale is just the right challenge for many hours of activity.
About the image: Quilts by Sherri L. McConnell and Corey Yoder from their pattern book Sunday Best Quilts.
- 1000 interlocking pieces
- Manufactured from premium quality, eco-friendly, recycled cardboard and nontoxic ink
- A precise cut ensures thick, sturdy pieces fit together soundly with minimal puzzle dust in box
- Mini poster of image for reference
Made of: Cardboard

Finished Size: 19-3/4in x 29-1/2in

Pieces: 1,000