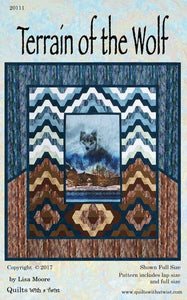 Terrain of the Wolf
See more from
Quilts With A Twist Quilt Patterns
Item Number

Dakota by Red Rooster Fabrics features a digital Wolf panel, perfect for the Terrain Project. This project would work equally well with other panels and coordinates.
Terrain is a beautiful quilt with Lisa's unique angle technique. Using 3 1/2" strips, blocks are cut along angles with a 2" difference from top to bottom. Although this is not a beginner project, you will be surprised at how easy this is. The projects are a lap size and a full bed size. Although this quilt is designed with this oversized digital panel (26" x 44"), options are given for a standard panel size. 
Pattern only.  No fabric included.