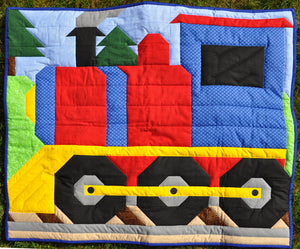 Train Quilt Pattern
See more from
Counted Quilts Quilt Patterns
Item Number

Choo Choo, All aboard for dream land! Wrap your little one is this bright and friendly little Train quilt pattern as they travel to the land of dreams.

Finished Sizes:
Wall Hanging: 24" x 28"
Crib: 36" x 42"
Lap and Throw: 48" x 56"

Skill Level: Advanced Beginner

Pattern designed by Lisa Muilenburg - Counted Quilts.

Counted Quilts have a unique construction technique. They really are as easy as 1, 2, 3.

1. Cut the given number of strips.
2. Cut the given number of pieces.
3. Sew the quilt top following a labeled picture map.