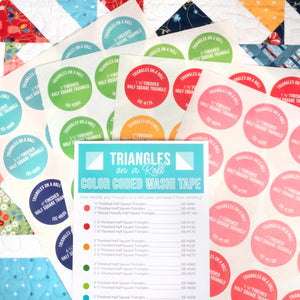 Triangles On A Roll Color Coded Washi Tape
See more from
Its Sew Emma Quilt Patterns
Item Number

Easily identify your Triangles on a Roll paper and keep it from unrolling!
Save time in your sewing room with the Triangles on a Roll Color Coded Washi Tape! These circle-shaped washi tape pieces are printed with each Triangles on a Roll size to help you label and identify your triangle paper rolls while keeping them tidy and securely taped closed.
Each set includes 4 washi tape stickers per roll size for 80 pieces total. The washi tape is color coded by the size of the finished half square triangle unit to help you find your needed size even quicker.
Features: 4 8-1/2in x 11in Sheets

Each Sheet has 20 Stickers

Each Size of Triangles on a roll has 4 Stickers

Paper insert shows the color coded legend


Made of: Paper / Adhesive

Color: Multi

Size: 8-1/2in x 11in

Use: Organization