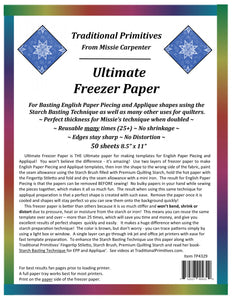 Ultimate Freezer Paper 40ct
See more from
Traditional Primitives Quilt Patterns
Item Number

Fourty 8.5 x 11 inch sheets per pack. Ultimate Freezer Paper is THE Ultimate paper for making templates for English Paper Piecing and Applique. You won't believe the difference, it's amazing. Missie uses two layers of freezer paper to make EPP and Applique templates, then irons the shape to the wrong side of the fabric, paints the seam allowance with Premium Quilting Starch and dries it with a mini iron. The result for EPP is that the papers can be removed BEFORE sewing. No bulky papers in your hand while piecing EPP.

The result using the same technique for applique prep is a perfect shape. This freezer paper is so much better because it is so much stiffer and won't bend, shrink or distort due to pressure, heat or moisture. This means the same template can be used over and over, more than 25 times, which will save time and give excellent results of perfect shapes quickly and easily.

This makes a huge difference when using the starch preparation technique. The color is brown, but don't worry, patterns can be traced by using a light box or window. It can also go through ink jet and office jet printers with ease for fast template preparation.