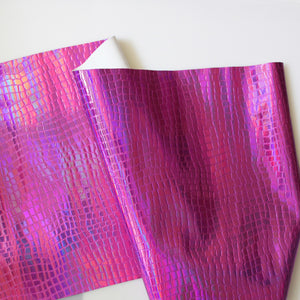 Vinyl Croc Fuchsia
See more from
Sew HungryHippie Quilt Patterns
Item Number

Fuchsia Croc Textured vinyl for sewing bags and crafts.
Sold per 1/2 yard roll measuring approx 18in x 52in
This stunning croc embossed vinyl is perfect to sew with as this material is strong and sturdy, but thin enough to sew with a Universal needle and home sewing machine.
It's very difficult to photograph due to iridescent qualities! Beautiful in real life.
Thickness is 0.7mm with a pu backing making it VERY easy to sew.
ALL colors are rainbow-iridescent when sunlight hits them.
This vinyl is high quality and will sew perfectly with a teflon (non stick) sewing foot on your machine.