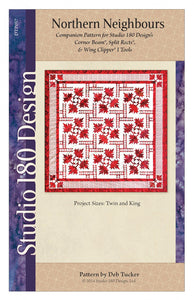 Northern Neighbours
See more from
Studio 180 Designs Quilt Patterns
Item Number

Companion Pattern for Studio 180 Design's Split Rects, Wing Clipper I & Tucker Trimmer I Tools.
A quilt design frequently made with loads of scraps becomes challenging when using coordinated grouping of colors.  Deb's pattern and a bit of organization, you'll easily be able to make this spectacular quilt.  Create this quilt in either a color coordinated or scrappy variation in lap or full size.
68" x 80" and 80" x 92"