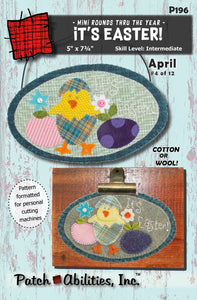 Its Easter Downloadable Pattern
See more from
Patch Abilities - Patterns Quilt Patterns
Item Number

This is a downloadable pattern. Downloads are sent immediately after purchase.

Fusible applique, finishes at 5.5 x 8 in. Make in wool or cotton. Display alone, on a warm wood clipboard or on a simple wire hanger. This is the April project in Mini Rounds Thru The Year series, though also available as a stand alone pattern.

The unique oval shape lends versatility -you can display on a wall or shelf with the 7x9 inch reclaimed wood clipboard, or simply lay upon a table or furniture where you want to add a dab of warmth. Easter is my favorite holiday and evokes feelings of excitement in me and my kids. This adorable mini round just sums it up for me, It's Easter! Cheep Cheep!

Please respect the copyright law. The artist has worked hard to create this work. If another copy is needed for a friend, another license needs to be purchased. Thank you for supporting the quilting community.