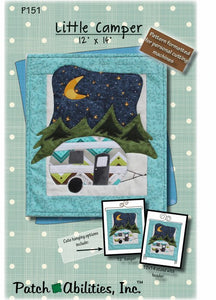 Little Camper Downloadable Pattern
See more from
Patch Abilities - Patterns Quilt Patterns
Item Number

This is a downloadable pattern. Downloads are sent immediately after purchase.

12" x 14" Finished Size. This fun little camper design will make you want to break out the marshmallows and build a campfire! The pattern features an old fashioned, retro camper. The vintage look of this Little Camper will make your guests love camping just as much as you do! If you're not a camper, but you know someone who is... they would love this as a gift! Goes great with the 12" double scroll hanger or 12x14 inch stand & matching header!

Little Camper quilt pattern includes: beginner friendly directions, frustration-free tracing templates for fusible applique, and even includes beginner tips and binding instructions. Great beginner project to learn to machine applique with large simplified applique shapes. Just a little bit of embroidery and this can be completed in just 1 day.

Please respect the copyright law. The artist has worked hard to create this work. If another copy is needed for a friend, another license needs to be purchased. Thank you for supporting the quilting community.