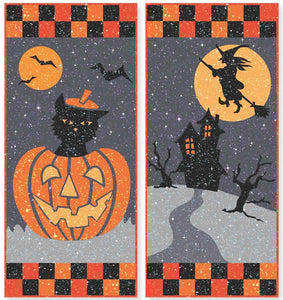 A Scary Twinkling Pair Quilt Pattern
See more from
Urban Amish Quilt Patterns
Item Number

Yolanda V. Fundora brings us her beautiful Halloween quilt pattern, "A Scary Twinkling Pair". This project uses her very own "Twinkle" fabric line for Blank Quilting. It only requires 2 of her multi-shade Twinkle fabrics.

It is an easy, and fast project wonderful for gift giving. It involves fusible applique. "A Scary Twinkling Pair" is great for beginner and a joy at any skill level.

Finished Size: 8" x 18" (per banner)

Skill Level: Beginner

Pattern designed by Yolanda Fundora - Urban Amish.