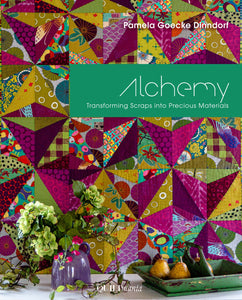 Alchemy: Transforming Scraps into Precious Materials
See more from
Quiltmania Quilt Patterns
Item Number

After the immense success of her book, Parallel Lines, Quiltmania is proud to announce the release of Pamela Goecke-Dinndorf's second book!
A true pioneer of taking the traditional to an audacious modern level, Pamela's second opus focuses on the magic created when the right combination of hue, value and print come together. Learn how she creates three-dimensional effects of interweaved parts, how she turns straight lines into curves, creates movement, constructs color palettes of extraordinary depth, and much more! Inside, you will find 12 inspirational projects of varying difficulties, a table runner and Boro cushion included.
Pamela's interpretation of the Log Cabin and Nine Patch, and playful take on rectangles and hexagons, is a real treat! Each project is complete with an introduction where Pamela shares her tips and creative process, full size patterns and instructions and embellished with rich photos.
Pamela is the visionary designer behind "Aardvark Quilts." Her career in fashion and interior design are integral to her success as a quilt artist and fabric designer. Pamela's work is wildly graphic and original thanks to her color and fabric choice. She travels the world giving classes and conferences, inspiring quilters to overcome their fears when it comes to color and fabric choice, particularly vintage and striped fabrics!