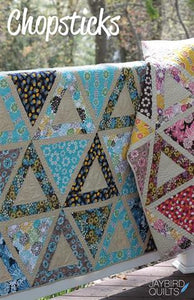 Jaybird Chopsticks Pattern
See more from
Jaybird Quilts Quilt Patterns
Item Number

Large and small triangles weave a festive Asian flair with this crisscross of another kind. Perfect for a sushi picnic, youll want to pick up Chopsticks and dive in.
49in x 60in cover Quilt with other size options.
Uses Creative Grids CGRT12560 12-1/2in Triangle 60 Degree.
The pattern has four size options and will include full size templates that can be used in place of a 60° ruler.
Ruler(s) must be ordered separately