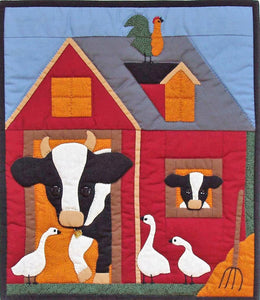 Cows Downloadable Pattern
See more from
Rachels of Greenfield Quilt Patterns
Item Number

Cows is a downloadable pattern. Downloads are sent immediately after purchase.

A cow and her calf peek from the sheltering barn eager to welcome a new day. Geese gather to join the greeting. Perched high atop the roof, a robust rooster announces morning! Colors are barn red, black, white, gold, brown, green, gray, and blue.

The finished size of the wall quilt pattern is 13″ x 15″.

Please respect the copyright law. The artist has worked hard to create this work. If another copy is needed for a friend, another license needs to be purchased. Thank you for supporting the quilting community.