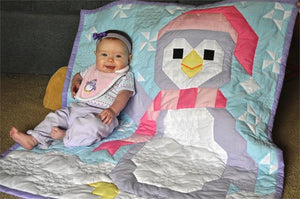 Penguin Quilt
See more from
Counted Quilts Quilt Patterns
Item Number

Quilts designed by Counted Quilts have a unique construction technique. They really are as easy as 1, 2, 3.
Cut the given number of strips.
Cut the given number of pieces.
Sew the quilt top following a labeled, color picture map.
The Penguin quilt pattern can be made in three sizes. The addition of snowflakes in the background add to the winter scene.
Finished Sizes:
Wall Hanging: 24� x 28�
Crib: 36� x 42�
Lap: 48� x 56�