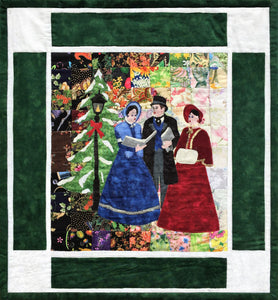 "Rachel's Christmas Cards" Block #4 Carolers
See more from
Whims Watercolor Quilt Kits Quilt Patterns
Item Number

The trio's clear strong voices filled the square as shoppers gathered to warm their hearts in the glow of the lamp post to hear the beautiful Christmas Carols.  "…It came upon the midnight clear, that glorious song of old, from angels bending near the earth, to touch their harps of gold:..
Finished size is approximately 13 1/2″ x 15″ without border.
All kits include: Dark, medium, and light die-cut watercolor fabrics, necessary applique fabrics and patterns, along with detailed instructions and a color photo.
Whims Recommends using Quilt Grid to speed up the process of sewing the background squares together.Using Whims Quilt Kits with Quilt Grid makes it easy for both beginners and advanced quilters to create a beautiful Water Quilt.