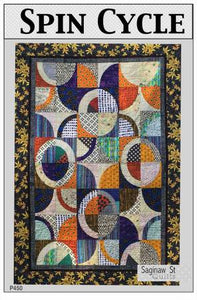 Spin Cycle
See more from
Saginaw St Quilt Co Quilt Patterns
Item Number

Finished Size 55" x 81" - This is a companion pattern to the Creative Grids Ruler CGRKAOVAL - Ovals All Ways.
The Creative Grids® Ovals All Ways Ruler cuts ovals, semi-ovals, and quarter-ovals from 3" x 4 ½" to 8 ½" x 10" and every half-inch between. Since this ruler is designed to be used in multiple ways, additional markings are included to for techniques such as fusible applique, piecing and turned-edge applique.

The ruler slides easily over the fabric until pressure is applied. Then, our exclusive gripper holds the fabric in place while cutting, eliminating slipping and miss-cuts! The ruler comes with fully illustrated step by step instructions.
Ruler(s) must be ordered separately