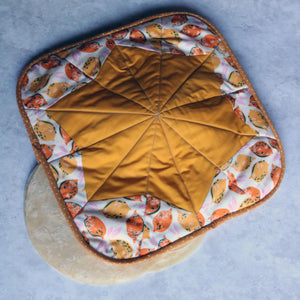 Tortilla Warmer
See more from
Cut Loose Press Quilt Patterns
Item Number

This Tortilla Warmer is designed with a pocket so your heated tortillas will stay warm until dinner is over! Each tortilla warmer is created with two of the Gypsy Quilter Plate Cozy Pre-Cut Batting which is microwave safe. All you need is 1/2-yard of two coordinating fabrics and a few hours of your time. Both sides of the cozy are pieced from a variation of a Dresden plate block, the perfect choice to accent the quarters of the bowl.
The pattern is written for one warmer, but since the pre-cuts include enough batting to make four, you may want to make them all for gifts! Invite friends or teach a class. They will love going home with a finished project.
12-1/2in x 12-1/2in.
The Gypsy Quilter Plate Cozy Pre-Cut Batting (TGQ102) and the Creative Grids 30 Degree Starburst Tool (CGRISE30) are required.
Project Time: 2-6 Hours.
Fabric Type: Yardage Friendly.
Project Type: Home.