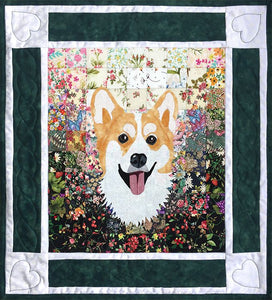 Winston the Corgi
See more from
Whims Watercolor Quilt Kits Quilt Patterns
Item Number

Winston Corgi walks low to the ground with his head high, magnificent and dignified, he's self-assured and thinks he's royalty— (We'll give him that!). Fun loving and playful always ready for adventure!  Even the Queen would agree!!  Designed by Mim Schlabach exclusively for Whims Watercolor Quilt Kits.  Finished size 13.5"x 15" without border.
Winston is another dog in the series that will fit the Dog Kennel Quilt but can also be a 'stand alone' quilt kit.
All kits include: Dark, medium, and light die-cut watercolor fabrics, necessary applique fabrics and patterns, along with detailed instructions and a color photo.