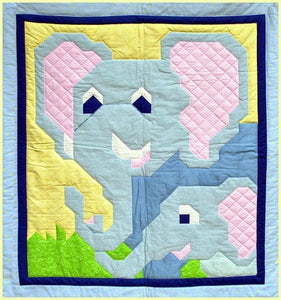 Elephants
See more from
Counted Quilts Quilt Patterns
Item Number

Quilts designed by Counted Quilts have a unique construction technique. They really are as easy as 1, 2, 3.
Cut the given number of strips.
Cut the given number of pieces.
Sew the quilt top following a labeled, color picture map.
This Elephant pair was originally designed by Lisa Muilenburgs for her kids jungle themed room. She made them both in traditional gray and steel blue. This pattern is also great as a neutral baby blanket for those who like surprises.
Finished Size:
Wall Hanging: 24� x 28�
Crib: 36� x 42�
Lap and Throw: 48� x 56�
Skill Level: Advanced Beginner